2008 - CCSS Scholarship Recipients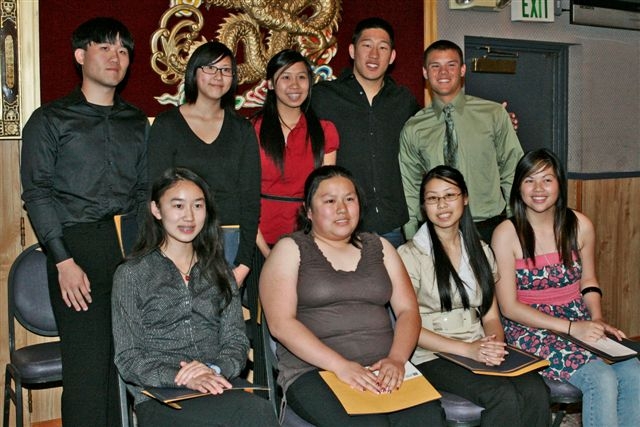 Standing, l-r: Lawson Wu, Grace Lam, Mandy Jin, Henry Wang, Matthew Ryan Lee. Seated, l-r: Mandy Wong, Kayla Yunyee Chow, Yui Hing Tam, Lois Ann Hui .
Photo by Dr. Jack Funamura
Two CCSS scholarships and seven others administered by the organization were given out at the recent Spring Festival banquet. All the scholarships are for merit, based on the students' essays, grades, extracurricular activities and records of community service.
The recipients and their scholarships are: Mandy Vinyee Wong of Franklin High the daughter of Martin & Sophie Wong, the Mary and Jimmy Lam Scholarship; Lawson Wu of Tokay High, son of John & Jin Wu, the Christopher & Florence Poon Scholarship; Yui Hing Tam of Bear Creek High, daughter of Eric & Sherly Tam, a CCSS Scholarship; Lois Ann Hui, of Edison High, daughter of Jiang Ping Guan, a CCSS Scholarship; Grace Lam of Middle College High School, daughter of Ling Feng, the Dr. Henry & Sylvia Wong Scholarship; Mandy E. Jin of Middle College High School, daughter of Wand & Sandy Jin, the Wong Shee Huey Memorial Scholarship; Kayla Yunyee Chow of Stagg High School, daughter of Feng & Kwan Chow, a Dr. Mary Ni Wang Memorial Scholarship; Matthew Ryan Lee of Sierra High, son of Robert E. Lee & Bonnie J. Bennett, a Dr. Mary Ni Wang Memorial Scholarship; andHenry Wang, San Joaquin Delta College, son of Stan Wang, Ock Sam Huey Memorial Scholarship.
Congratulations to all the scholarship winners and best wishes for a successful college career. And thanks to the scholarship committee: Dr. Janwyn Funamura, chair, Lilian Gong, Loreen Huey, Dr. Chen F. Liem and Miranda Wong for studiously reviewing the essays, recommendations & transcripts and making difficult selections from an outstanding field of applicants..
For an application form, click on the Scholarship Application Link
---