September 26, 2009 - Delta Dragons Dragon Boat Racing Team
For some excitement and fun, don't miss the 14th Annual International Dragon Boat Festival and championship races on Saturday and Sunday, September 26/27 at Treasure Island in San Francisco Bay. On Saturday, cheer on the CCSS Delta Dragons, a team that won last year's novice championship trophy. It is a weekend of world-class dragon boat racing, spectacular cultural performances, and fun-filled activities for the whole family at the largest competitive dragon boat festival in the United States. In addition to the exciting dragon boat racing, the Festival features many fun cultural activities: an entertainment stage with live dance and music performances, the Dragon Land children's activity tent, and a variety of food, arts & crafts, and other vendors.
The Delta Dragons, a novice team, will race on Saturday only. Led by Captain (and CCSS board member) Stefanie Chu, the Delta Dragons paddlers include Spencer Chu, Sabrina Chu, Quan Nguyen, John Lee, Lien Tran, Randy Hatch, Elaine Hatch, Nick Mah. Huy Ngaou. Monica Ventura, Kathy Lao. John Mangrum. Peter Kim, Mimi Nguyen. Raquel Noriega, Jason Liu, Leanne Tran, Angie Chang, Sojeva Ortega. Richard Parker, and Lex Lucero. They are coached by veteran paddlers Sharon Beall and Chuck Chen (also a CCSS board member). www.sfdragonboat.com
---
September 22, 2009 - Bonnie Lew Heads To MOCA Opening In New York City
When the Museum of Chinese in America reopens in a new, larger facility on September 22, Bonnie Lew will be one of the special guests. The story of her family is one of those in the core exhibit, With a Single Step: stories in the Making of America, featured during the MOCA opening.
The current MOCA , designed by Maya Lin is in a 14,000 sq. ft.space, six times bigger than its original home. Constructed with donated funds, its exhibits include wooden replicas of carvings found in the Angel Island detention barracks.
Born in San Francisco, Bonnie moved with your family to Mississippi at a young age before returning to Califronia as a teenager. She moved to Stockton to take a job as a librarian, later marrying Stocktonian Bobby Lew and establishing her permanent residence here.
Bonnie is a former recipient of the CCSS Citizen of the Year Award and was the teacher of Chinese dance during the heyday of the Chinese Cultural Society of Stockton's Folk Dance Troupe. She currently leads an informal group of adults in performing traditional dances.
---
August 29, 2009 - CCSS Visits Angel Island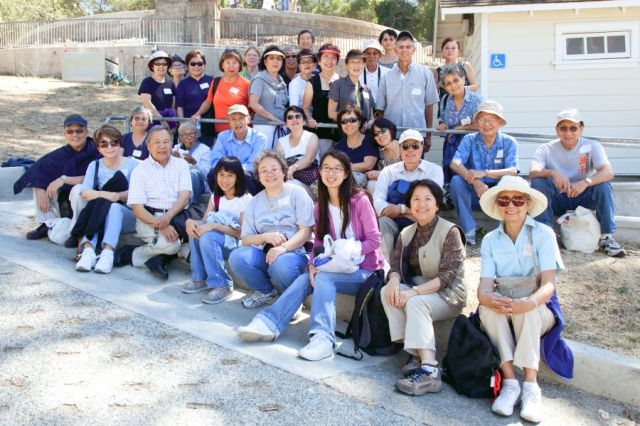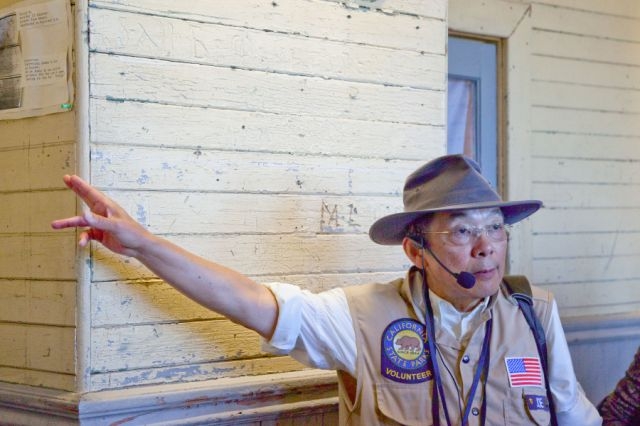 On August 29, 52 members of the Chinese Cultural Society took a bus ride to San Francisco to board the Blue and Gold ferry sailing to Angel Island. Some then boarded a shuttle to the Immigration Center for a guided tour by docent Joe Chan, while the rest trekked on foot up the hill to take in the sights on their own. Mr. Chan, the grandson of a Chinese immigrant, gave an informative and detailed account of the history of the detention center and the Chinese experience. It was a wonderful outing for CCSS on a balmy, sunny San Francisco day to an important place in Chinese America history. (photos by Dr. Jack Funamura.)
---
December 9, 2009 - CCSS Christmas White Elephant Gift Exchange Party
Santa's Helpers Make Merry!
Twelve tables of Christmas revelers came to celebrate at the CCSS Christmas White Elephant Gift Exchange Party on Wednesday, December 9th at China Palace. Some guests scored great gifts, some got the proverbial white elephants, but all enjoyed the exchange and a sumptuous meal amidst good company & camaraderie.
Helping to make spirits even brighter were Danny and Kathy Ho, who led the guests in singing a few traditional hymns and seasonal songs. Danny also played Santa Claus by delivering some appropriate headgear for the season.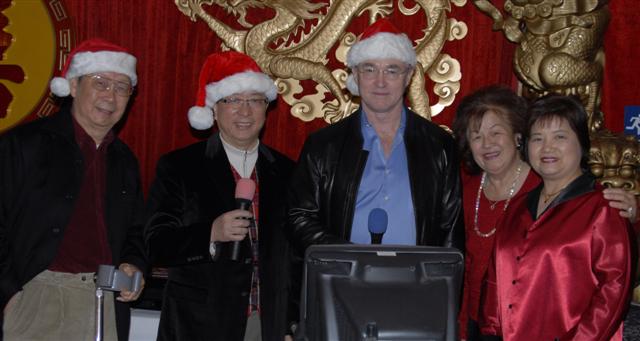 Left to right: Dr. Chen F. Liem, Danny Ho, Bill Elliott, Mary Huey, and Kathy Ho lead the sing-a-long. If you missed the party this year, watch for it next December because we plan to do it again!
---
October 4, 2009 - Autumn Moon Festival Potluck
The CCSS Annual Moon Festival Celebration for members and their guests will again be at Oak Grove Park. Come for camaraderie, food, and fun. Lunch served around noon. Entrance to the park is $5.00 per vehicle, but the event itself is free. Members should bring a dish (side dish, salad, or dessert) to share - enough your family and guests plus four others. CCSS will provide meat, noodles or sticky rice, fruit and drinks.
DETAILS
When: Sunday, October 4, 11:00 a.m – 4:00 p.m.
Where: Poplar Picnic Shelter, Oak Grove Park, 8 Mile Road & I-5
What: Potluck Picnic and Moon Fest Celebration
Cost: Park entrance fee per car $5.00
Bring: Dish to share (see above) and your family & guests
RSVP: Cynthia Lau, (209)969-9542 or e-mail This email address is being protected from spambots. You need JavaScript enabled to view it. by THURSDAY, OCTOBER 1, PLEASE.
---
June 27, 2009 - A Tradition of Soup - Flavors from China's Pearl River Delta
Teresa Chen's long-awaited book on traditional Chinese soups is a thoroughly readable encyclopedic compilation of recipes, cooking methods, geography, history, philosophy, metaphysics, health advice and oral histories. By the time you've finished perusing the pages of this "joy of (Chinese) cooking", you're ready to hit the kitchen and start a pot of soup that takes you back to your childhood.
A special presentation by Dr. Chen of the book, A Tradition of Soup/Flavors from China's Pearl River Delta, sponsored by the Chinese Cultural Society of Stockton is scheduled for Saturday, June 27, at 1 p.m. To be held at Jene Wah Senior Center, 238 E. Church Street, the session includes a cooking demonstration and sampling soups prepared by Dr. Chen. Copies of the book, to be signed by the author, will be available for sale.
The book was a collaborative effort of scores of individuals but it is indeed Dr. Chen's book. Many of the recipes and techniques in the book came from more than a dozen of the center's senior clients; local restaurateurs gave culinary advice. Friends offered treasured cooking pots and tureens for photographing finished soups, contributed special ingredients, interviewed recipe contributors, shared special photographs, and accompanied Dr. Chen on buying trips. All book profits will benefit the Jene Wah Senior Center.
---
March 5, 2009 - CCSS Picnic
In the late 1970s, two local families-Helen & Esther Cone of Lodi and Joseph C. Tope of Stockton-donated their Chinese textile collections to the San Joaquin Historical Society. Items from this collection dating back to late 1800s, will be on a rare display when author Toni di Franco talks to the Chinese Cultural Society of Stockton at the museum on May 6.
Among the collection are theatrical costumes, silk panels from clothing worn by members of the Chinese royal household, a Manchu woman's robe, "dragon robes", and "lotus bud" shoes for a woman with bound feet. This program is a rare opportunity to see them and learn about the symbolism and intricacies of the decorative textile designs Prior to the talk at 1 p.m., CCSS is hosting a picnic lunch beginning at 11 a.m. on the Museum grounds for CCSS members..
The usual museum admission is waived for CCSS members, and no cost is charged for the lunch. Non-members must pay for museum entrance ($5.00, discounted for seniors, teens and children) but will be CCSS' lunch guests. Reservations are a must, as seating in the lecture hall is limited. Entrance to Micke Grove itself is $5.00 per car but is free for historical society members. Come celebrate Asian American Heritage Month with this exceptional program on Chinese traditions. And while you're at Micke Grove, visit the Micke Grove Zoo which is having a festival celebrating Migratory Birds. While there, see the Zoo's rare Chinese albino alligator, a member of an endangered species that, according to some wildlife experts, could be extinct in its natural habitat within the next two decades.
The zoo is open from 9 a.m. to 5 p.m. To make reservations, contact Francis Lau, 209-478-8754 or e-mail This email address is being protected from spambots. You need JavaScript enabled to view it. by Tuesday, May 5.
---
March 8, 2009 - Chinese New Year Festival
YEAR OF THE OX 4707
The only public event in San Joaquin County celebrating the lunar new year—the Year of the Ox 4707—takes place on Sunday, March 8, from 10 a.m. to 5 p.m. at the Stockton Civic Auditorium, 525 North Center Street.
This year's Chinese New Year Festival is the 31st annual event sponsored by the Chinese Cultural Society of Stockton.A favorite highlight of the day are the lion dances, one which opens the event at 10:30 a.m. and one on stage at 11:30 a.m., performed by a group which won first and second prize in a recent National Lion Dance Competition. A full afternoon of stage entertainment focused on cultural dances, martial arts demonstrations, instrumental music and songs is scheduled (see link to entertainment schedule).
Specialty New Year food items complement favorite foods that will be available. Activities include cooking demonstrations, mah jongg lessons, and children's arts corner. Concessions offering home décor, art goods, clothing, calligraphy and souvenirs will be on hand.
The $2.00 donation for admission includes a chance for cash and merchandise door prizes. For further information, call 209-931-2609.
Attachments: